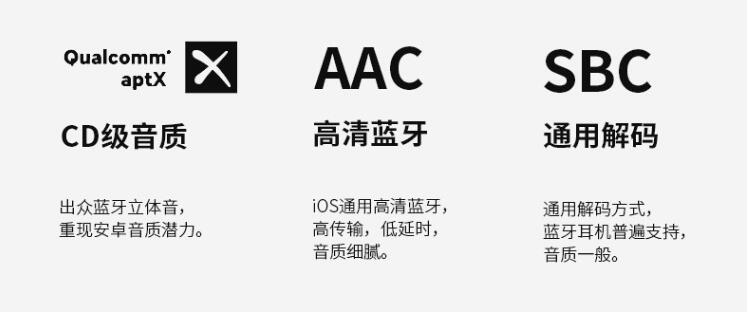 最高音质LDAC

The Bluetooth LDAC codec

Currently, the most qualitative Bluetooth codec is the Sony LDAC. Its operation is based on the Bluetooth 4.0 standard so that a CD-quality audio file (16-bit / 44.1 kHz) can be transmitted without damage. A transmission up to 24 bits / 96 kHz is even possible, but with a minimum of compression.
For a long time remained the exclusive technology of the Japanese brand, only Sony devices could use it with each other.
Attention! As with any other Bluetooth codec, to enjoy LDAC audio transmission, the receiver (speaker, amp, etc.) and transmitter (computer, smartphone, tablet) must be LDAC compatible.
LDAC is Sony's answer to wireless sound. It supports some incredible transfer rates that only newer phones running Android Oreo are capable of supporting. Older phones will not have access to LDAC.
This codec sets itself apart from aptX and aptX HD with its three different connection modes for transferring data. The "Connection" mode connects at 330 kbps, which, in truth, is slightly slower than the SBC codec. Its "Normal" mode ups the rate to 660 kbps, and the "Priority" mode is capable of sending data at a blazing 990 kbps, significantly higher than the aptX or aptX HD.
Sony has not only achieved a transfer speed of 990 kbps; it sends high-resolution audio with a minimal loss in quality. It has similar latency rates to the aptX programs, and, in priority mode, LDAC transfers full 24-bit files at 96 kHz.
To use the high-quality data transfer that LDAC offers, you must make sure your headphones use the same technology and set up
Sony's LDAC plays a far different game than the above two codecs. LDAC was previously exclusive to only Sony Xperia handsets, however, it's now available on a number of Android phones.
One of the key highlights of LDAC is its use of variable bit-rate for data transfers. It uses three different types of connection modes — Connection, Normal, and Priority.
While the basic Connection mode transfers at 330 kbps, the Normal mode scales the speed up to 660 kbps. Interestingly, the Priority mode sends data at a whopping 990 kbps, which is a significant improvement when compared to SDC and aptX.
The Priority mode of LDAC sends data at a whopping 990 kbps
What's more, LDAC is capable of sending high-res audio data with minimal loss in quality. This can be attributed to the combination of lossy and lossless audio compression technique.
The same catch applies to LDAC as well. Both the phone and the speaker needs to support LDAC. Also, if the speaker doesn't have LDAC or the device doesn't support such a high bit rate, the transfer will hover between a value that is stable.
The Bluetooth codecs
a
ptX
and
a
ptX
HD

Now widely used, apt-X codecs offer high transmission quality, with a throughput of about 576 Kbits for apt-X HD and 350 Kbits for apt-X. The sound compression method is deteriorating (information is deleted), but the playback remains very good. Qualcomm, the company that developed the apt-X HD codec and markets the apt-X HD Bluetooth chips, evokes a quality close to the CD. Listening, we notice a rather pleasant ventilation and a wide frequency response.
aptX
The aptX codec from Qualcomm is not new, but it has taken years for it to make its way into Android phones. It is different from SBC because it uses ADPCM (Adapted differential pulse code modulation) which predicts the next signal based on the previous one. The differences between the two signals are the only parts sent to the receiver.
In aptX these signals move from the source to the receiver at a bandwidth of 352 kbps, wider than the industry-standard SBC.
It has significantly less latency, only lagging by less than 40 ms, and it sends 16-bit files at 44 kHz. AptX's lower latency keeps the mouths going in sync with the sound on videos.
aptX also divides the file into separate frequency bands. These bands create a better sound to noise ratio, and the music sounds clearer than when using SBC.
Qualcomm's aptX Bluetooth Codec is still compression, however, it gets things done differently. It focuses on the key perimeters where SBC lags — higher bandwidth.
aptX (lower latency) has a bit rate of 352 kbps while aptX HD transfers audio at up to 576 kbps. Compared to the default SBC codec, this bandwidth is much wider. The higher bit rate lets more data to be moved thus raising the audio quality. That's the reason aptX claims to have near CD quality audio. Plus, the audio latency is drastically less.
aptX claims to provide near CD quality audio
It lags by less than 40 ms, which means that you'd have perfectly synced audio and video when you
binge watch TV shows
and movies.
The key difference between aptX and SBC is how the former compresses audio data. aptX uses ADPCM. Basically, ADPCM predicts the next signal based on the previous signal and it transmits the difference in both the signals.In short, ADPCM transmits fewer bits per sample which means smaller files which means superior music quality.
The aptX codec has a slight catch. To get the most out of it, the phone and headphones should support aptX. If not, it'd resort to the default SBC codec.
These qualities make aptX suitable for consumer-grade headphones, but audiophiles will notice the background noise. They may prefer aptX HD.
aptX
HD
The aptX HD codec is the high definition version of aptX. It sends HD files with very little background noise, allowing the listener to hear all the subtle details of the music.
aptX HD improves the quality of the sound by using a 576 kbps bandwidth. The extra bandwidth sends higher quality data without as much compression. It broadcasts 24-bit data at 48kHz, giving a more detailed, fuller sound. aptX HD achieves higher quality without increasing the latency or pausing the stream, so everything runs smoothly and sounds amazing. It even approaches the quality you get from wired headphones.

The Bluetooth AAC codec
If you own an iPhone, iPod touch or iPad, you will not be able to take advantage of the apt-X codec, Apple having chosen another Bluetooth controller supplier for its devices than Qualcomm (the only manufacturer to market apt-X chips). As a result, the impasse has so far been made on the apt-X. Apple has opted for AAC audio compression, which is also the format chosen for iTunes and Apple Music.
The qualitative differences with apt-X are very small, especially since if you listen to music with iTunes in AAC format, no re-compression is performed.
The Bluetooth SBC codec

The Sub Band Codec (SBC) uses a compression algorithm comparable to Microsoft's WMA. When radio conditions are good, the data rate is 350 Kbits /sec with a correct listening quality. On the other hand, when the rate drops to 128 Kbps, audio artifacts are audible in the high frequencies. If you have ever had the impression that your Bluetooth headset was crackling, you didn't dream and the SBC codec is to blame.
SBC (Low Complexity Sub-band Coding) is the basic coding standard for most Bluetooth devices and is present in almost in every device by default. In fact, it's mandatory for any A2DP (Advanced Audio Distribution Profile) device to have SBC.
SBC is present in almost in every device by default
This Bluetooth Codec has maximum bit rates of around 328 kbps (198 kbps for mono streams) with a sampling rate of up to 48 kHz.
With this speed, SBC just gets the work done i.e. you wouldn't find high-quality audio fidelity. Plus, there is significant data loss in the transfer process. This loss is in addition to the compression technique used to compress the audio track in the first place.
Moreover, the latency is around 100-150 milliseconds. This is the time the audio takes to reach the speakers. This latency isn't much observed when we take voice calls or listen to music.
However, while watching a video or playing a game, this latency can cause the audio and video to go out of sync.
更多了解: